Life Coaching With Chavon Anette
Chavon Anette began coaching as a leadership and life coach in 2019. She has always been the individual who people have come to for support and advice, but as a leadership and life coach Chavon desires to help people navigate through life and also stand in their purpose position to be who God has called and ordained for them to be. Through focusing in on goals, areas of development, and leadership, Chavon Anette helps her coaching client reach milestones that they had not been able to reach on their own. She looks at purpose goals, career goals, spiritual goals, and destiny goals with her clients.
Her core values are: commitment, confidence, courage, and community.
Her why is to help kingdom individuals break fear, build faith, and lead confidently to make impact in the culture that we all live in God.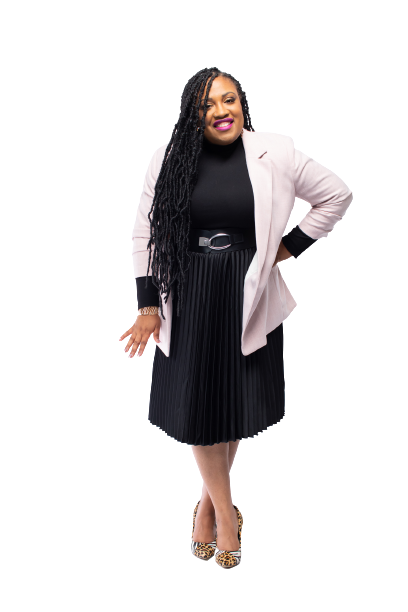 #1 Bestselling Author, Transformational Speaker, Leadership and Life Coach, and Talk Show Host, CEO
Chavon is an Amazon #1 Bestselling Author, Transformational Speaker, Leadership and Life Coach, and Talk Show Host, and she married her husband, Corey, in 2012. They went on to start a business together called Purpose Unwrapped, LLC.
Chavon was a special education teacher in the public-school system for 6 years, and she worked within the secondary level of education. She earned her master's degree in Teaching with a focus of Special Education. She was awarded 2022 Distinguished Educator of the Year Award and Teacher of the Year Nominee. 
Chavon is a certified Leadership and Life Coach. God has led her to the area of leadership, and her passion is empowering and equipping Women in Leadership. Chavon is currently working on obtaining a Doctorate in Education in Christian Leadership from Liberty University.
Chavon has published 4 books that are available on Amazon, and she has been apart of 5 anthologies. Two anthologies became Amazon #1 Bestsellers- Undeterred and Unveiled Transparency. 
​
In 2018, Chavon was nominated for ACHI nominee for Author of the year and Educator of the year, and in 2019 she was nominated for ACHI nominee for Educator of the Year and Orator of the Year! In 2018, she was named Rookie Teacher of the Year for a Reading Program that she taught in her school.
Your intake form has been submitted. Check your email for a copy of your responses. If you're accepted, you'll receive an email with a link to checkout.
Frequently Asked Questions
Can I get a refund if I'm unhappy with my purchase?
If you are unsatisfied with your coaching, reach out to us to see if your purchase is eligible for a refund.
As stated in Teachable's Terms of Use, Coaching IS NOT covered by Teachable's 30-day student refund policy. As such, we highly recommend that you add your own refund policy here.
How do I schedule my appointment?
Upon purchasing coaching, you'll receive further instructions on how to book a time for your appointment.
Can I purchase coaching more than once?
Absolutely! If you find yourself in need of coaching more than once, simply purchase the coaching again.